FAQs
Q. Can I purchase a prescription medicine without a prescription?
A. You must have a valid written prescription from an Australian veterinarian. The prescription indicates the dose, dosage frequency and duration that your pet requires the medicine and other important information our Dispensing Pharmacists need to dispense your order. If you don't have a prescription, you'll need to ask your vet. Read more on how to ask your vet for a prescription here. We are required by law to have the original hard copy paper prescription with your vet's original signature (not just a photo, scan or emailed copy) to be physically in our possession before our Dispensing Pharmacists dispatch your order. Please note that charges do apply if you place an order and do not provide us with a valid prescription.
---
Q. My vet has put my pet on a prescription product, but has refused to write a prescription. What can I do?
A. In Australia, veterinarians are not obliged by law to write a prescription when requested, however most do so when asked. Some vets will charge a prescription fee but often that will be less than the savings you make buying the product from us. A recent survey* reported that over 50% of vets charge a pescription fee of less than $20 including 12% of vets that don't charge any fee at all (other than their usual consult fee). If your vet is unwilling to write a prescription or will only write a prescription if you pay a fee you feel is excessive, you are entitled to seek out another vet. For more information on how to ask your vet for a prescription, click here
---
Q. Unable to obtain a prescription from your usual vet due to distance, scheduling difficulties or other reasons?
A. Consider contacting an online vet such as Your Vet Online or i-Vet.com.au who will be happy to provide an Online Consultation , and if appropriate, provide a prescription for your pet (the i-Vet.com.au virtual consult standard fee is $80 and i-Vet.com.au does not charge extra for writing a prescription. The Your Vet Online online consult fee is $49.95 and a script is $30. Your Vet Online is registered Australia wide, operate 24/7 and handles all species).
Please be aware that the online vets at i-Vet and Your Vet Online will need to virtually examine your pet (usually via a video call) and will only provide a prescription if they are satisfied that this is the appropriate treatment for your pet.
---
Q. Can you recommend a vet who is willing to write a prescription?
A. We don't recommend particular vets, however, a simple call to the vet clinic before you attend will usually help you identify vets who will write a prescription or consider an online video consultation with an Australian vet from a service like i-vets.com.au .
---
Q. How do I place an order with you?
A. Ordering from PetScripts is easy, and the process is similar to most online stores with the added benefit that you can upload a copy of your vet's prescription during the checkout process. For a step by step guide on how to order Click Here
---
Q. Where do I post my original prescription?
A. Post your original prescription to (no stamp required):
PetScripts.com.au
Reply Paid 86963
PO Box 5007
Sunshine Coast MC QLD 4560

We recommend you use Express Post to ensure your script reaches us in the shortest possible time. Don't forget to include a copy of your order confirmation or at least a hand written note with your name and order number. We do not accept liability if your prescription gets lost in the mail and our pharmacists cannot fill your prescription without the original, no matter what the circumstances.
---
Q. Can I fax or email my prescription?
A. We are required by law to have the original hard copy paper prescription with your vet's original signature (not just a photo, scan or emailed copy) to be physically in our possession before our Dispensing Pharmacists dispatch your order. However, to help our Dispensing Pharmacists prepare your order and dispatch it quickly, you can upload a scan or photo of your prescription during checkout, or email it to us at [email protected] (don't forget to include your full name and order number on the email!).
---
Q. Can you keep my prescription repeats on file and save me time next time I place an order?
A. Our Dispensing Pharmacists can keep and fill repeats. Simply tick the checkbox during at checkout saying you give permission to keep repeats on file and when you place your repeat order, just include a note in the Order Comments box telling us we hold your repeat on file.
---
Q. How do I know how many repeats I have left?
A. If you're not sure how many repeats you have left, check the dispensing label attached to your most recent order which shows the number of remaining repeats.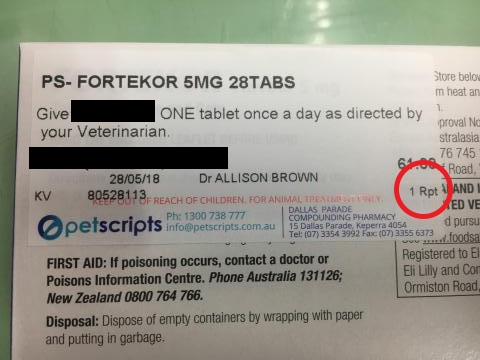 Alternatively you can view a copy of your prescription by logging in to My Account-View Order and clicking on the attachment link at the bottom of your order summary.
---
Q. Do prescriptions have an expiry date?
A. Prescriptions are valid for 12 months, so make sure you order the products covered by the prescription (including any repeats) within 12 months.
---
Q. I placed an order with you but you've declined to fill it, how come?
A. If you do not provide an original valid prescription from an Australian veterinarian, your order cannot and will not be filled. Please don't place an order if you don't have a valid prescription, as we do charge a fee in those circumstances. Other reasons your order might not be filled include because the product you want is not in stock, the product must be kept chilled, and due to your location, weather events, holidays or other reasons it is not considered that it can be shipped to you in a safe and appropriate manner, or it is felt that it is not in accordance with the law, good pharmacy or veterinary practice or good business principles to fill your order for any other reason. Please note your Credit Card or PayPal account is charged at the time you place the order. If your order is declined, we will notify you and refund your payment.
---
Q. Can I speak to a pharmacist or veterinarian?
A. Please call us on 1300 738 777 if you wish to ask a pharmacist or veterinarian a question about your order or a product you have a prescription for and wish to order. Please note, we do not provide pharmacy or veterinary advice (for example, we do not give recommendations as to which products to use for which ailments), do not recommend products or veterinarians and do not provide second opinions or referrals – you should talk to your veterinarian about any questions or concerns you may have about any aspect of your animal's treatment.
---
Q. Can I order over the counter (non-prescription) products from you?
A. PetScripts is dedicated to helping Australian pet owners buy affordable prescription products for their animals from registered Australian Pharmacists. This means we've implemented special rules and processes only applicable to prescription products, so we do not sell over the counter products such as flea, tick, intestinal worm or heartworm control, pet foods or other over the counter products. However, click here to see a range of retailers with a proven track record in supplying those sorts of products to Australian pet owners.
---
Q. I live outside Australia, can I order from PetScripts?
A. Only orders to Australian addresses will be filled and only after the provision of a valid prescription from an Australian veterinarian. Orders with a delivery address outside Australia will be automatically canceled and refunded.
---
Q. I'm not happy with my order, what can I do?
A. If for any reason you are not happy with any products in you order when you receive it, call us or send us an email ([email protected]) and tell us why. Your order will be replaced or refunded orders if it arrived damaged or incomplete, where the product is not what you ordered or is not as described or otherwise in accordance with the Australian Consumer Law. However, we are unable to provide refunds or exchange simply because you ordered the wrong product, you changed your mind, you don't feel the product is working or because you no longer require the product.
---
Q. Can I get a compounded medicine through PetScripts?
A. Yes you can! If you're vet has written you a prescription for a compounded medicine (i.e. one that our pharmacists have to prepare) we can generally have that script filled. Click here for more info on compounded vet medicines.
---
Q. Are all the products on your website exactly the same as my vet sells?
A. Yes. All the products are Australian sourced medicines registered by the APVMA and are carefully checked under our quality assurance systems and dispensed by our Australian registered pharmacists.
---
Q: How can your prescription pet product prices be so cheap?
A. By operating online, not having an actual physical pharmacy shop front, working with independent Dispensing Pharmacists, buying in bulk and negotiating deals we can keep our costs down and pass on great savings. Because our management team has almost 20 years of experience selling animal health products online, we're very efficient at what we do.
---
Q. Do you price match?
A. We feel we provide terrific value and help our customers save lots of money with our low prices. We also provide outstanding security, and the confidence of knowing that all products are handled and dispensed by Australian pharmacists and veterinarians and our 5 Star Promise.
We are aware that in a competitive environment you may find products we sell offered elsewhere at a cheaper price. Sometimes this is because the other retailer has decided to sell the product as a loss leader, or has been able to obtain a bulk discount or similar, but unfortunately sometimes it can be for more concerning reasons such as the other retailer cutting corners in safety, storage or processing, not using registered Australian pharmacists, sourcing product offshore from unregulated suppliers, or perhaps the products are short dated and damaged. For these reasons we are unable to price match other retailers.
---
Q. I have pet insurance which covers drugs purchased from my vet. Will my purchase through PetScripts be covered by my insurance?
A. Generally yes. Always check with your insurance company first, but many pet insurance policies do cover prescriptions ordered through PetScripts.com.au .
---
Q. I can't find the product I'm looking for listed on your website, can you get it in for me?
A. To keep our prices down and allow us to focus on outstanding service, we list a selected range of the most popular pet medicines at discounted prices. There are literally tens of thousands of animal medications, and we simply can't stock them all. In some cases we've decided not to list a product because it is particularly dangerous, restricted by government regulation or good pharmacy practice, because it's bulky or otherwise difficult to deliver, or because for commercial reasons we are unable to get that product for you at a discount. If your vet has prescribed a product you can't find on our website, please contact us on 1300 738 777 or [email protected] but please understand that not all requests can be accommodated.
---
Q. I want to change my order, what do I need to do?
A. Please contact us immediately on 1300 738 777 or email our customer service team at [email protected]
Our Dispensing Pharmacists try to dispatch orders as soon as possible after your original prescription is received and often dispatch on the same day as the prescription, so it's important that you let us know of any changes as soon as possible. You cannot change your order once it has been dispatched.
---
Q. How will my order be delivered?
A. Your order will be delivered via Australia Post eParcel or by courier company such as DHL or CouriersPlease. It will generally be packed in a box or padded envelope and a signature will be required upon delivery so please use a delivery address where someone will be home during normal delivery times.
All orders are your responsibility once delivered to your address (whether or not someone is home to accept collection). If you have given us or the delivery company (such as Australia Post) "authority to leave" you are confirming that it is safe to leave the item at your premises if no one is home, and we cannot accept any responsibility for loss, theft or damage once delivered). Please note under Australia Post rules effective from 2 April 2017, you will be deemed to have given "authority to leave" if the post office staff member believes it is safe to do so unless you expressly opt out. If you do not want the parcel left if no one is available to sign for it, please write "DO NOT LEAVE WITHOUT SIGNATURE" in the comments box during checkout.
Please note we are not responsible for loss or delay if you have provided an incorrect or incomplete address, and additional charges may apply if products are returned to us or if delivery has to be re-attempted for any reason.
---
Q. Your website says a product requires refrigeration. How do you ship it?
A. Items that require refrigeration are packed in a styrofoam box with ice brick(s). Please note items that require refrigeration can only be delivered by express post ($19.95) and only to postcodes within the Australia Post Express Network and will be dispatched on Mondays, Tuesdays or Wednesdays to ensure they arrive cold.
---
Q. How long will my order take to arrive?
A. We usually say to allow 5 business days for delivery within Australia from the date your original prescription is received. However, most of our customers find that their order arrives in much less time.
Actual delivery time depends on a number of factors including the amount of mail the post office has to process at the time and whether or not you live in a metropolitan area.
Most orders arrive in 3 to 5 business days. PetScripts does not ship to addresses outside Australia and does not ship certain products which must be kept chilled outside the Australia Post Express Post Network.
Please remember, your order will not be dispatched until your original prescription has been received and reviewed by the Dispensing Pharmacist.
---
Q. How much does shipping cost?
A. Our shipping charge is just $9.95* for postage, handling and insurance** for each order delivered anywhere in Australia. You can upgrade to Express delivery for just $10 more ($19.95)***.
* for orders up to 1kg total weight. Orders over 1kg, our standard shipping fee is $19.95 ($29.95 for express shipping). The vast majority of our orders are under 1kg but if you are unsure, please contact us.
** Insurance covers replacement or refund in the event that an order is damaged or lost in transit, up to the value of $500 per order.
*** Express post is the only option available for products which must be kept refrigerated, and is only available for postcodes within the Australia Post Express Post delivery area. If you are unsure, check with your post office.
---
Q: Can I collect my order?
A. To keep our prices down, we do not operate a physical pharmacy shop front and do not offer a collection service.
---
Q. Is shopping with PetScripts secure?
A. Buying online from PetScripts is safe and reliable. To ensure your information and payments are secure we use the latest available encryption technology (also known as SSL Technology). We use leading payment processing providers eWay and St George Bank to process visa and MasterCard payments in real time. For more choice, we also accept Paypal and zipPay
Your credit card details are never sent by email and we will never disclose your personal details to anyone without your permission.
---
Q. I have products I no longer need, can I return them for a refund?
A. Unfortunately as the products we sell are prescription only items they cannot be returned simply because you no longer need them, you've changed your mind or you ordered the wrong thing so please keep this in mind when ordering from us. If we've made a mistake with your order, or the products are not as described or not fit for purpose or you're otherwise covered by the Australian consumer law we will, of course, give you a refund. Please contact us before returning products in this circumstance so we can establish the problem and rectify it as quickly as possible. To ensure the highest levels of animal safety, all products returned to us will be appropriately disposed of, even if you're not entitled to a refund, and cannot be returned to you. .
---
Q. What if I have more questions?
A. If you have any questions on our products or service, please email [email protected] or call 1300 738 777 between 9:00 am and 4:30 pm Eastern Standard Time. Please note, we are unable to provide advice on individual complaints or ailments.